The Paradise Papers: Panama's Labyrinth
The Paradise Papers is a special investigation by 94 media partners worldwide, and the ICIJ, into the leak of 13.4m files from two offshore service providers and 19 tax haven's company registries, following last year's Panama Papers. If the Panama Paper's unprecendented size illustrated the scale of offshoring, the Paradise Papers discloses the complexity of the structures employed.
Much of the analysis so far has focused on individuals, and the debate between tax evasion and avoidance. The Paradise Papers reveal little on this issue that is unexpected. Far greater lucidity can be obtained from the disclosure of the mechanisms and agility by which high net worth individuals utilize offshores for business secrecy, creating labyrinthine hurdles for due diligence practitioners and impairing the safety of the global financial system.
At Arachnys, the ICIJ is one of our data partners. We specialize in the use of open and unstructured data for the purposes of investigations. We integrate many offshore sources into our expert-curated custom collections, including the Panama Papers, Bahamas Leaks and the Offshore Leaks. We therefore welcome the leaks, not only for additional source coverage but as part of a concerted effort towards making the financial system more open, transparent and accountable.
As a due diligence provider and technology company specializing in investigations management, we see a structure of offshoring available which continues to be opaque, presenting an extraordinary hurdle when it comes to the provision of anti money-laundering, customer due diligence (CDD) and KYC. Too many investigations in anti-money laundering or terrorist financing hit a dead end prematurely as a result of extensive layering (the practice of creating a complex enough structuring of financial vehicles which often ends in the British Virgin Islands, Bermuda, Cayman Islands or even Delaware) requiring more and more extensive research. Lifting the veil on this system should be an urgent concern of anyone interested in ensuring the safety of the global financial system.
Welcome to the layer cake
The practice of layering, in anti-money laundering parlance, is the use of financial vehicles to disguise ownership. This practise is not in itself illegal, and neither is tax structuring for efficiency. Shell companies continue to exist for reasons of convenience, secrecy, legal avoidance (or, in certain cases, illegal evasion). However, the mechanism in itself is problematic for transparency, anti-corruption research and anti-money laundering due diligence, as it represents the most common technique for money launderers. It creates lengthy due diligence procedures which become necessary procedures for customer checks worldwide. This erodes the customer experience for financial institutions and increases the length of time it takes to onboard a legitimate customer.
I was disappointed to find at the date of writing, a Twitter search for 'layering' with 'Paradise Papers' or #Paradisepapers brings no results. This demonstrates a conversation around the central issue (and industry terminology) is not being sufficiently addressed. Instead the focus has been on writing stories around key entities and PEPs which, whilst in many cases inevitable and worthy, does not directly address the core issue structurally. Mike Hudson, a senior editor at the ICIJ, neatly summarizes the issue whilst alluding to the problem for due diligence professionals:
"We've struggled to do these kinds of on-the-ground impact stories throughout our offshore leaks investigations, because the harms caused by offshore secrecy and chicanery are, while real and potent, usually indirect (fewer tax dollars for governments means less money for schools and hospitals, etc.) The elaborate layering of offshore tax and secrecy structures often means there are many layers of insulation between questionable activities and their ultimate effects on real people." - Mike Hudson, ICIJ
A cursory survey of the papers indicates that large multinationals, PEPs and high net-worth individuals are leveraging intermediaries and offshore firms to mediate their interest and make investments which minimize their tax obligations. We can see there was a clear obfuscation of foreign interest in venture capital firms - two institutions with close connections to the Russian state funded lucrative investments in Facebook ($1bn) and Twitter ($191m) via an intermediary [Yuri Milner]. The sensitivity of the FBI investigation notwithstanding, a lack of investment visibility and an obvious state connection is a concern given Facebook and Twitter are publicly-trading companies and modern communications utilities, proved to be vulnerable to exploitation and manipulation by bots, a case dominated by allegations the attackers derive from the same jurisdiction related to the investments. As communications platforms, even greater transparency and visibility in their ownership disclosure may be expected beyond other publicly-trading companies. As the cases below illustrate, simple ownership declarations rarely demonstrate true beneficiaries.
Havens or vehicles?
Some tax lawyers state they do not recognize the term 'tax haven'. Anthony Travers, Chairman of the Cayman Islands Stock Exchange contemptuously denies it as 'outmoded'. Martin Kenney, 'a British Virgin Islands based lawyer focused on multi-jurisdictional fraud and grand corruption cases', wrote into the FCPA blog asserting that discussions in the wake of the leak relating to tax policy and social responsibility have become 'confused' and that the media have conflated 'secret' with 'confidential.'
"If these loopholes were so gaping and bad, onshore governments would have closed them immediately after the Panama Papers broke last year. They haven't. Why is that?"..."The reason why is because it is in everybody's interests to have offshore tax efficient systems available to Big Business. Big Business and the entrepreneurs that mastermind its profitability will simply uproot and move elsewhere. When this happens, jobs will go with them, leaving rising levels of unemployment behind."
Trickle-down economics is a standard defense of offshore wealth managers, but this jejeune reasoning ignores how the escalating complexity of offshore structures and shell companies result in considerable burden and inefficiencies on the financial sector when conducting due diligence globally. Stating that businesses will leave without this facility is as much an argument for a co-ordinated international response rather than non-intervention.
Kenney contends that the ICIJ has not found any criminal or illegal activity in the leaks; but this is a classic straw man argument. The ICIJ's complaint is that the activity is unethical in its use, and that the lawmakers conspire to make it legal. To suggest the practise is defensible because of its legality is barely worth examination; on such limited criteria all once legal behaviors could have been considered acceptable if the only provision for their acceptability is legality, including money-laundering and slavery. The law is likely to change: the European Commission is bringing forward discussions on plans for a 'blacklist' of offshores. This defense looks to be on the wrong side of history.
Law firms lobbying
The law firm at the center of the investigation, Appleby, was found to be lacking in compliance reviews over the course of a decade regarding their practices in the Isle of Man, Cayman Islands, BVI and Bermuda. The Bermuda Monetary Authority stated:
"Oversight weaknesses were repeated in high-risk findings in both the 2013 and 2014 reports".
Simultaneously the firm has invested in a consortium of lobbying firms against the reform of tax havens. The International Financial Centers Forum forced a climbdown in offshore regulation at the G8 summit in June 2013, according to the Guardian, alongside Appleby. Whilst it is possible to consent to their claims that they directly prevent and enforce against any directly illegal practice, the leaks demonstrate that a number of their clients leveraged this secrecy to conduct practices which would otherwise present a major red flag to any due diligence firm or anti-corruption unit.
Privacy pendulum
An oft-cited reasoning for the use of offshore jurisdictions given by tax lawyers is secrecy: the idea that disclosure of beneficial ownership violates legitimate privacy rights, alongside the suggestion that campaigners for transparency would not like to see their banking details leaks into the public domain.
The broader topic of the difference between privacy and secrecy in the financial system (particularly with GDPR advancing) is too fascinatingly complex to cover here. Pertaining to 'layering' this conversation is straightforward. Comparing beneficial ownership registers, available for the purpose of conducting due diligence, with the disclosure of personal information or account details, is a false equivalence. It is possible and even commonplace to include such information on a register that produces accurate information on company ownership without endangering personal and confidential financial information, and disingenuous to claim otherwise. Open registers are spreading, with few of the privacy problems cited as either widespread or rampant.
The pendulum between privacy and transparency of beneficial ownership can be precarious, but clear lines can be drawn. Last year an open register of trusts in France was repealed in October 2016 after a high net worth US individual was perceived by the courts to be robbed of her privacy rights, in breach of French constitutional law. The implementation of public access was successfully challenged on the basis that it led to the disclosure of her will and testimony. The court weighed up the distinction between the aim of fighting tax fraud and evasion, and maintaining privacy, but concluded that access needed to be restricted in line with the Fourth Money Laundering Directive, requiring the viewer to demonstrate a 'legitimate interest' in viewing the information. Were it not for the case involving her testament, there may have been no challenge.
The court defended the register as legitimizing a constitutional objective, of avoiding the fraudulent use of trusts for tax evasion and money laundering, even citing Transparency international's figure of 80% of illegal global flows of funds linked to tax evasion transit via trusts. The objections merely related to unstructured access by the public to private information, which will be revised but likely reinstalled, even before the likely forthcoming revisions from 5MLD, which looks likely to require all EU countries to establish public registers of beneficial ownership.
The UK government had previously promised to force public registers in offshore jurisdictions, but made a significant climbdown as the British Overseas Territories successfully argued that it would make individuals move their business elsewhere. The Paradise Papers revealed that representatives including Appleby suggested "incidences of kidnapping, extortion or blackmail in G8 countries that were motivated by access to publicly available data about an individual" would be useful to make the argument.
Despite such alarms, public registers have been implemented elsewhere without said consequences, saving considerable investigations time in the process. HM Treasury conducted a cost benefit analysis of different models of collecting ownership data, finding that the time savings would be more than double the combined cost to the public sector of running the database - let alone the wider benefits of due diligence to both the public and private sector. Moreover, there is the pain from continued leaks: 400 public companies lost $135 billion off their stock value by being named in the Panama Papers, according to one consortium of economic analysis.
---
Island-hopping
It is considered an effective defense that ultimate beneficial ownership (UBO) identification information regarding BVI companies, for example, is 'readily available' to 27 governments, on a private basis by request. However, this is inadequate compared to offering public registers.
The case regarding Roman Abramovich demonstrates how ineffective this process is. As reported by Novaya Gazeta, in August 2008 Abramovich tried to acquire more than third of Russian Forest Products, based in Bermuda, for $168 million. The authorities approved the deal, but an 'unusual problem' arose - the prospective beneficiary was required to fill out a special compliance questionnaire, likely to be shared with HMRC and other international authorities, requiring disclosure if the beneficiary was ever the subject of a judicial investigation. Abramovich replied 'no', despite the fact he was a key figure in a criminal case on the use of forged documents in 1992. The Paradise Papers leaked correspondence shows that the 'mistake' was caught by the Bermudan authorities, and caused a lot of anxiety to Appleby employees, as the authorities would not consent to the acquisition and demanded additional due diligence. However, another option remained available:
"In the BVI such problems are unlikely to arise."
If the Bermuda regulator attempts to prohibit ownership on the basis of a due diligence investigation, it is trivial for another offshore to be chosen where the authorities are more accommodating, where no due diligence is required.
Penrose stairs
Other figures in the Paradise Papers demonstrate similar 'agility' in getting round anti-money laundering checks, such as Alisher Usmanov. The BBC has demonstrated Isle of Man-based Bridgewaters is required to conduct independent due diligence checks on the firms it administrates - including that of Usmanov. The Paradise Papers indicate that Usmanov may own the very firm processing AML and EDD checks on his business: Usmanov leverages a private trust called Bordeaux limited, which the papers show used to be managed by Appleby [the source of much of the leaks]. However, in 2011 the trust's management was transferred to Bridgewaters; but the leaked emails state that Usmanov has 'bought' a trust company called Bridgewaters. Bridgewaters made a statement following the leaks denying the ownership, and claiming that the documents had been misinterpreted. The filings also show that Matthias Bolliger, Usmanov's close associate, has been a director of Bridgewaters, and is listed as the beneficial owner of the company. There are also dozens of BVI companies managed by Bridgewaters, where the ownership details of the companies are hidden. Consequently, it is possible that Usmanov owns the very company charged with the due diligence on his firms.
The possibility that Usmanov is the beneficial owner of Bridgewater is made much more likely when contemplating the connection with Usmanov to the Milner Facebook deal, as disclosed in the leaks: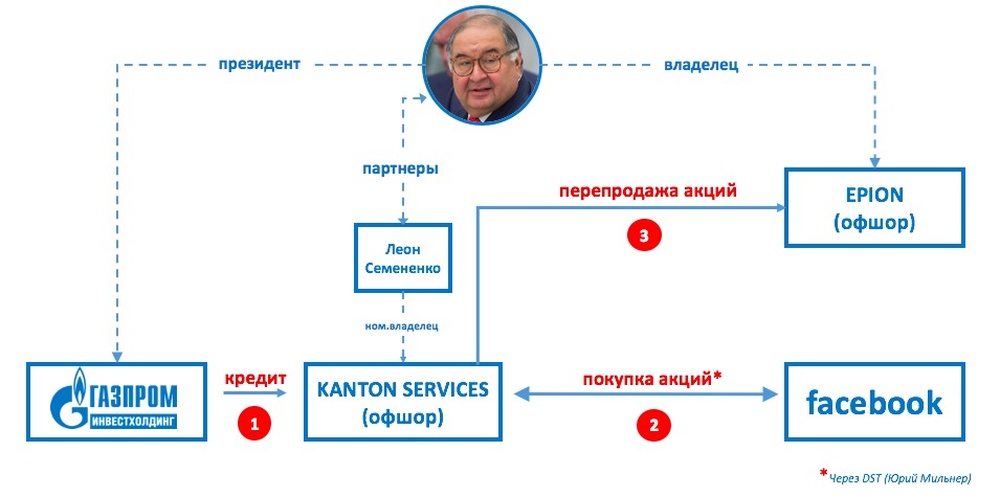 As Navalny reports Bridgewater also broke the deal on behalf of Usmanov and Yurimilner for the Facebook shares, a deal which originated with Gazprominvestholding, of whom Usmanov was director from 2000, who receive state subsidies from the Kremlin:
1. Gazprom invests almost a billion dollars to the Offshore Kanton Services, first to the British Virgin Islands, then to an identical company in Belize via a partner of Usmanov.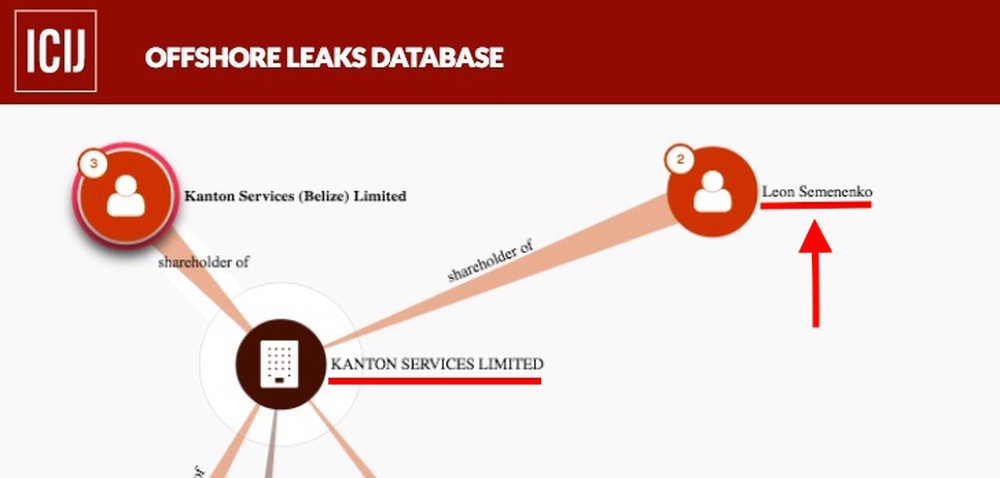 2. Kanton took 78m shares in Facebook, via Milner's company DST USA II then sells the shares two months later to a personal firm of Usmanov's called Epion.
3. Facebook then went public on 18/5/2012.
4. Epion, via Yuri Milner's investment vehicle DST USA II, purchased 78m shares in Facebook 22/05/2012. This is confirmed by the SEC's statement of changes in beneficial ownership.
5. According to The Guardian, Usmanov sold the last of his Facebook shares in 2013.
If correct, Gazprom does not retrieve their investment, and Usmanov profits without investment risk. If in the US the leaks resulted in sensationalist claims of "Russia controlled our election by buying Facebook and Twitter!" Russian citizens would be entitled to say "we bought Facebook and Twitter? Why didn't anyone tell us?!" The loopholes allegedly exploited by Usmanov's firms, even with the leaks demonstrate the complexities and structuring option available via offshores to obfuscate ownership.
---
The cases illustrated by the Paradise Papers demonstrate that entities looking to flout standard due diligence procedures conduct their business with demonstrable agility around a system of disclosure which is at best inaccessible, and at worst negligent. The practice of layering, common to money launders but even used legally represent a fundamental obstacle to the financial system performing effective due diligence. Increasing complexity from these checks creates large cost centers in financial institutions. Beyond accusations of tax avoidance and criminality, the movement towards greater financial transparency is accelerating faster than ever before, with increasing pressure on lawmakers to force the Britain's Overseas Territories participation. If critics of the leaks and the call for public registers sound increasingly desperate, it's because they're burying their heads in the sand.
We're participating in the Beneficial Ownership Data Standard Working group, as part of the Open Ownership project to create an international standard around verification, which currently means something different in every jurisdiction. If standardized, this data will be more easily comparable across jurisdictions and other datasets such as land registries and shipping data. Inconsistencies across these datasets, whether it be names or addresses, will be extremely useful in investigations.
We're expecting the full dataset from the ICIJ in the imminently. At which point, we'll be integrating it into our system immediately.
Did you find this article helpful?
Request a Demo
Subscribe for Email updates